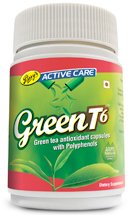 Nutritional Facts
Each capsule contains (approx.)
Green Tea Extract - 500 mg
(90% polyphenols, 40% EGCG)
Energy
0.40 Kcal
Protein
0.07 gm
Carbohydrates
0.03 gm
Fats
Trace
Caffeine
less than 2%
Parry's Green T6, made from 100% natural green tea extract, provides the goodness of 6 cups of green tea in each convenient capsule. Parry's Green T6 is the only product of its kind that is as rich in concentrated polyphenols and catechins, which are the active ingredients of green tea. Rich in super-active antioxidants, Parry's Green T6 is nature's formula for youthfulness, keeping you fit, active and healthy.
Benefits
Powerful antioxidant which protects body cells
Slows down ageing and keeps you young from within
Maintains healthy skin
Boosts immunity
Maintains blood pressure
Decreases fat absorption
Helps in cholesterol management
Increases metabolic rate
Helps in weight reduction
Helps control blood sugar level
Available as a convenient capsule
Decaffeinated and thus safe for those prone to heart palpitations and nervous disorders
One Capsule = 6 cups of Green Tea (considered essential to elicit the complete therapeutic benefits)
A daily dosage of 1 capsule of Parry's Green T6 is recommended for adults.
Availability
A pack of Parry's GreenT6 contains 30 capsules of 500 mg each.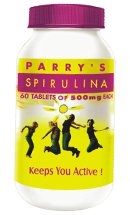 Nutritional Facts
Each Capsule / Tablet contains (%)
Spirulina extract - 500 mg
100% organic Spirulina
Carbohydrates
20-25
Protein
56-69
Fat
5-7
Phycocyanin
15-19
Betacarotene
0.15-0.25
Chlorophyll
1.20-1.60
Xanthophyll
0.25-0.47
Parry's Spirulina is the most effective way to compensate for our incomplete dietary intake and is the most nutritious and easily-digestible source of complete protein. Essential for overall health management, Parry's Spirulina is a natural source of essential phytonutrients such as carotenoids, phycocyanin and chlorophyll, essential fatty acids like gamma linolenic acid, a rich source of vitamins, minerals such as iron, magnesium, calcium, antioxidants and enzymes, all of which are completely bioavailable. Simply put, Parry's Spirulina is a necessity for today's fast-paced life.
Benefits
Fills up nutritional gaps thus preventing nutritional deficiencies
Complete protein (contains all 9 essential amino acids) for healthy growth & development
Five times easier to digest than meat or soy protein
Helps in treating Iron Deficiency Anemia (IDA)
Helps reduce cholesterol and prevent heart disease
Powerful antioxidant for eye / skin health
Helps in healthy liver function
Cleanses and detoxifies the body
Prebiotic for healthy gut micro flora
Low calorie & high nutrition
A daily dosage of 2 - 4 capsules/tablets of Parry's Spirulina is recommended for all age groups.
Availability
Parry's Spirulina is available in a pack of 100 capsules / 60 tablets of 500 mg each.